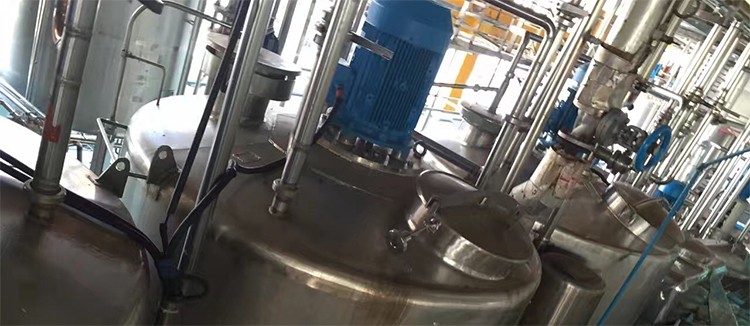 The mixing tank manufacturer shares the technical parameters of the heating mixing tank
The mixing tank manufacturer shares the technical parameters of the heating mixing tank:
The heating and stirring tank has the functions of heating, automatic temperature control, heat preservation and stirring; fast heat transfer, large temperature difference, convenient cleaning and the like. Widely used in food (milk), pharmaceutical, daily chemical, beverage, oil, chemical, pigment and other industries as heating, mixing or sterilization. The following are the technical performance of the heated stirred tanks prepared by the mixing tank manufacturer:
1. Material: inner tank SUS304 or SUS316L; jacket is Q235-B or SUS304; outer protective casing is SUS304.
Second, the process opening of each inlet and outlet nozzle and the welding of the inner tank body are all made by the flanging process arc transition, smooth and easy to clean without dead angle, and the appearance is beautiful.
Third, the volume: 50L, 100L, 200L, 300L, 500L, 600L, 1000L ~ 5000L.
Fourth, the heating method: the electric heating rod is inserted into the jacket, and the heating is uniform without the cold zone. The heat transfer oil or water is injected into the jacket as a heating medium, and heat energy is generated to heat the materials in the tank.
5. Jacket form: Full jacket, used to add heat transfer oil or water to achieve the best temperature rise and temperature reduction during work.
6. Insulation material: foaming with filled pearl cotton, rock wool or polyurethane to maintain the temperature difference with the outside world to achieve thermal insulation effect.
Seven, the outer shell surface treatment: mirror polishing or 2B primary color matt or 2B matte surface matt treatment.
8. Stirring device: The top center is agitated, and the output shaft of the reducer and the paddle shaft are connected by a looper for easy disassembly and cleaning.
Nine, material heating temperature: ≤ 100 ° C; material heating time: 30min ~ 90min (depending on the process needs).